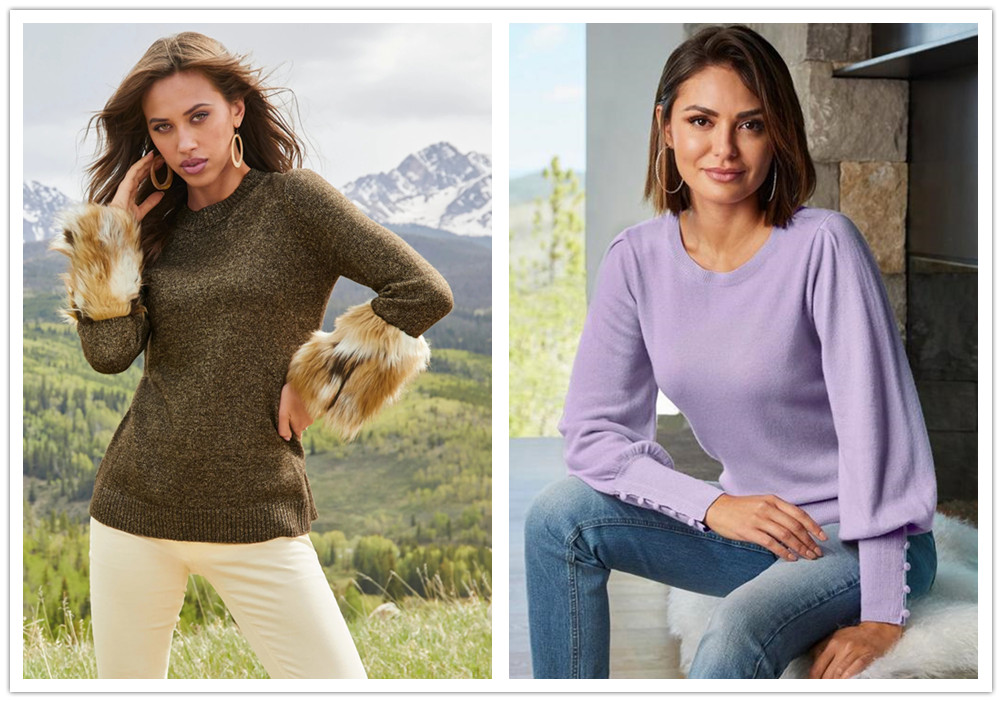 A fashionable women's sweater is more than just a blank canvas. It's a trendy piece with individuality. A women's sweater may enhance your entire style by adding elegance, warmth, or comfort. Because they are so comfortable and durable, the women's sweaters featured below have been quite popular.
Here is a list of stylish, cozy, and comfortable women's sweaters:
2. Animal Faux Fur Zip Up Cardigan
* This plush, warm, ribbed zip-up cardigan sweater will keep you comfortable all season long with its faux-fur animal leopard pattern that resembles a vest.
* As you go about your day, you will proceed with a sense of confidence thanks to the flattering fit of the garment and the front fastening, which is a single zipper.
4. Faux Fur Balloon Sleeve A-Line Zip-Up Cardigan
* The plush collar and balloon sleeves give it a touch of elegance, and the long sleeves, zipper closure, and removable faux fur collar make it comfortable to wear.
* This sweater will become a winter wardrobe favorite, whether you zip it up and wear it as a top or layer it over a tank or blouse.
5. Metallic V Neck Cozy Sweater Tunic
* This comfortable sweater tunic looks great on people of all body shapes, and the sheen of the metallic fabric adds a dash of glitz to your overall appearance.
* Side slits on this sweater make it easy to slip on and take off, and its pullover style overall makes it a great addition to your wardrobe.
6. Lace Illusion Balloon-Sleeve Sweater
* Long balloon sleeves of sheer lace and ribbed bands keep you comfortable while running around town. The boat neck and front and back yokes of sheer lace make you look chic even when you're just hanging out with friends.
* This sweater is easy to throw on over whatever you wear that day because it has a pullover style. It is also warm without being too heavy because it is made of viscose, polyester, and nylon.
8. Faux Fur Trim Turtleneck Poncho
* This stylish, modest turtleneck is a must-have for transitional weather and is the ideal way to add a layer of warmth over tees, tanks, and shirts.
* It's comfortable and flattering, with a pullover style and faux-fur trim on only one side. You can wear it with anything from jeans to skirts.